Amazon Shipping Delays: A Seller's Guide to Holiday Success
We are now living in an era where deliveries come to our doorsteps in no time—and Amazon is one of the best in the e-commerce industry regarding this matter, with its operational efficiency and vast network of fulfillment centers.
No doubt, they are constantly striving for customer satisfaction, especially regarding shipping and delivery since 2 out of 5 U.S. consumers say they expect their items to arrive within 2-3 days of purchase.
However, there are some slow days. Anyone who has ordered regularly on Amazon has probably experienced a delay in their shipments. This is bound to be more prevalent during peak seasons, such as the year-end holiday seasons like Christmas, Black Friday, and Cyber Monday, where there is a significantly higher volume of consumers doing some holiday shopping.
During these times, there are a few things you can do to handle Amazon shipping delays either as a seller or as a customer. You can either contact Amazon to know if you have any updates on your package(s), track your Amazon order, or demand compensation from Amazon if it gets too long of a wait.
Quick Guide
What Causes Amazon Shipping Delays?

Impact of Shipping Delays

How to Avoid Shipping Delays?

Amazon Shipping Delays Compensation
What causes Amazon shipping delays?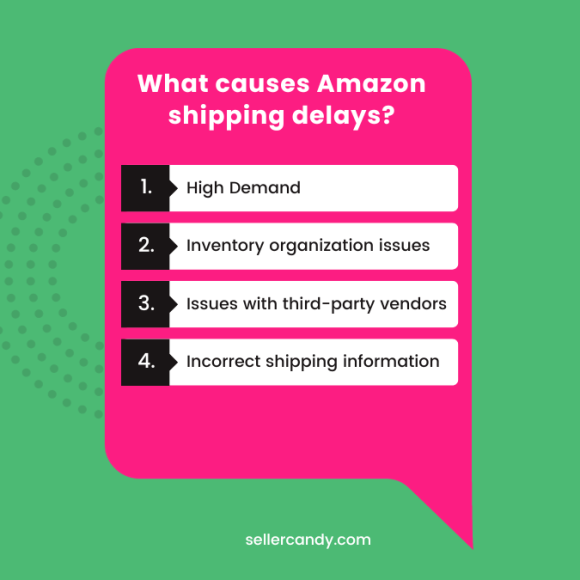 Most buyers nowadays expect their deliveries to arrive in two to three days, with a week as the definitive upper limit. According to reports by JungleScout, in 2021, 37% of online shoppers prefer to go to Amazon to get their products fast. While Amazon is known for its fast and low-cost shipping, there can be setbacks that are caused by several reasons:
High Demand. A rise in orders can overwhelm warehouses, resulting in extended processing times before items are shipped. Furthermore, peak periods, especially during Q4 holidays, increase demand for shipping carriers, causing delays during transit.




Source: Aboutamazon.com



Inventory organization issues. Amazon is known for its efficient inventory and sorting. However, handling the immense volume of packages for packing and shipping each day can be overwhelmingly challenging. During peak seasons, when the amount of packages is doubled or tripled, there is an increase in the likelihood of employees mislabeling items.





Issues with third-party vendors. Amazon offers the option for sellers to use third-party shipping services to deliver products. This flexibility allows sellers to choose their preferred shipping methods and carriers, offering a range of options to meet their specific needs and preferences. If this happens, Amazon has no responsibility for the shipping delays caused by its external partners.





The following factors on the consumers' end can also cause shipping delays:





Incorrect shipping information. Frequently, packages get lost in the way due to incorrect details indicated on the delivery address/recipient. Carriers face challenges locating the destination if essential details such as the shipping address or product information provided by customers or sellers are incorrect.
Moreover, accurate information may need to be clarified for orders and items, making the shipping process more complex and causing delays while discrepancies are sorted out.
Impact of delays on consumers and sellers
There is no question that a lot of the satisfaction from online shopping comes from fast shipping. The length of delivery time is often a factor in a customer's consuming behavior. Customers often depend on shops or websites that will take too long to deliver the product they bought.
In turn, if sellers often face shipping delay problems, the overall sales will likely be affected negatively, giving a bad look at their reputation.
As discussed in Seller Candy's previous blogs, customer satisfaction reflected through their reviews and feedback is a factor in maintaining a high product listing or getting recommended. If you have bad reviews due to backlogs of orders or shipments, you will likely be less visible to potential customers.
As a seller, you must also look out for your Late Shipment Rate, which Amazon strictly tracks for every seller. If your products are often shipped late because of inventory issues, you might get a hit on your LSR, which will be a cause for account deactivation or termination if not addressed.
Tips to avoid shipping delays on Amazon
Seller Tips
There are various ways in which shipping delays can be avoided or at least minimized as a seller.

Monitor your inventory.

Shipping delays are often caused by inventory mismanagement, which can be easily avoided by applying the right strategies and tools. It is essential to closely monitor your stocks to avoid over-listing your products, which causes backorders.
Seller Candy can help you monitor and forecast inventory based on sales trends through our analytics team. Connect with our team today so we can discuss how we can help optimize your inventory management.

Offer tracking information. It will be good for a seller to invest in shipment tracking technology. Allowing your customers to know the whereabouts of their packages in real-time can help reduce customer anxiety and frustration.


Communicate with your customer. If you are already expecting that there will be a delay in shipping someone's order, then it is best that you communicate with the customer as early as possible. Explaining the reason for the delay and giving them realistic estimations should show the effort you put into their purchases.
Free shipping and discounts. Providing deals such as free shipping or shipping fee discounts can help lower customers' expectations of getting a fast shipping delivery.
Explore Amazon Buy Shipping. One effective way to steer clear of Amazon shipping delays is by utilizing the Amazon Buy Shipping service. This feature is designed to streamline your shipping process and enhance your control over order fulfillment.
Amazon Buy Shipping provides a straightforward method for managing your shipping processes. You can easily purchase shipping labels directly from Amazon's platform, simplifying the order fulfillment procedure.
To access it in Seller Central:
Go to the Orders tab

Select Manage Orders

On the right-hand side of the product listing, click on the Buy Shipping option.
Shopper tips
If you ever find your packages taking too long to arrive, here are some measures you can take:
Contact Amazon. By accessing the Contact Us tab, you will be given the option to either message or call Amazon. The Amazon Support Team will redirect you to the proper channels to address your shipment concerns. Directly contacting Amazon will allow you to get quick support.
Track your orders. You may easily view the status of your delivery through Amazon's tracking tool by logging in to your account, going to Your Orders tab, and clicking on Track Package.
Amazon Shipping Delays Compensation
If ever you find yourself in a problematic situation of delayed shipping from Amazon, take a deep breath—your money has not gone to waste yet. Amazon has various perks in ensuring a satisfying buying experience, albeit with shipping delays.
Thankfully, you may get compensation should your delivery arrive late. However, it is better to know beforehand that there are requirements for you to qualify for redeeming such settlements.
Late-Delivery Refund
If your order does not arrive on the date promised to you by the seller, you have the option to demand a late-delivery refund, which should cover your shipping costs.
To enjoy this, your order must meet the following qualifications:
The order is shipped to an eligible address

The shipping option selected is the same one advertised on the product page

The order is placed before the 'order within' countdown on the product page

The payment method must be successfully charged before the deadline listed in the checkout
Some instances that would nullify the request for a late-delivery refund are unforeseen circumstances that caused late delivery beyond Amazon's control, such as:
Strikes

Natural disasters

Severe winter storms
A more detailed explanation can be read on Amazon's Guaranteed Delivery Terms and Conditions page.
If your order indeed meets these requirements, here is a step-by-step guide you may follow to get a late-delivery refund from Amazon:
Contact the Amazon Customer Service through their hotline (1-888-280-4331) or their virtual chat (https://www.amazon.com/gp/help/customer/display.html)


Answer the prompt questions so you can be connected to a human agent to help you with your concerns.
To sum up
Delays in shipping on Amazon are a growing concern for many online businesses and shoppers alike, especially during holidays. The significant increase in orders and deliveries during this period of the year is one of the factors that cause difficulties in the shops' processes and fulfillment centers. With that, both sellers and buyers need to cope and strategize their ways to avoid shipping delays.
Amazon sellers can monitor their inventory and stocks beforehand in preparation for the holiday season. They may also provide their customers with a way to track their packages. Communicating with the customers constantly is also a must to ensure that shoppers are well-informed on the status of their orders.
Ensuring all these measures are executed can be taxing for an Amazon business. That is why Seller Candy is here to offer its services with their team of professionals who can provide efficient inventory management, tracking tools, and customer service.
Seller Candy is an all-in-one e-commerce service provider that can help you go through the hustle and bustle of the holiday season and make you and your customers merrier.